Just wanted to say THANK YOU for re-publishing the Ashes series.I picked up the books on a whim while shopping one day. I read the back of the second one, because the first was sold out, and I thought it would be interesting. Instead of reading the second one, I waited until I found the First and bought it. From the first chapter on, I knew I was hooked for life!
It is really eerie how those books portray a VERY possible future for America. Being a graduate of Criminal Justice, I know many of the thugs portrayed in this series are exactly what will come out of the woodwork when society fails. From warlords to Perverts.

I firmly believe that it is not "IF" society fails, it is "WHEN". People should wake up or those things in these books will happen. Especially with the government not caring about the U.S. Constitution and Our Bill of Rights.

Bill, Thank you for your books. My only issue is that I had read the previews of the future books and am disappointed with what happens to the Tri-States and Ben.

Great Job.

Jo, keep up the great work on the forum and inspiring Bill, and keeping his Nose to the Grind Stone!
_________________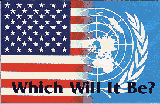 "I do not recognize the laws of a court that do not recognize the laws of god" (Unknown)
Ne Desit Virtus - (Let Valor Not Fail!)